GUIDE TO POSTPARTUM UNMENTIONABLES
"The complex truths of motherhood will continue to make every uncomfortable and ashamed until they are articulated readily and repeatedly."- Dr. Molly Millwood, PhD


week one  | Physical Recovery After Birth
week two  | Breastfeeding/Chestfeeding & Bottle Feeding
week three  | Emotional & Identity Shifts in Early Parenthood
week four  | Managing Postpartum Mental Health
week five | Relationship Changes in Early Parenthood
week six  | Prepping for Postpartum Like a Pro
WHY DO YOU NEED A POSTPARTUM GUIDE?
If you're pregnant, you've probably heard of the book What to Expect When You're Expecting. But what about what to expect after giving birth?
We (the founders of Nyssa) found ourselves studying all about pregnancy and birth....only to wind up with babes in arms and zero idea what was happening to our Fourth Trimester bodies and emotions. One of the reasons we started Nyssa was to help prevent the next wave of mothers and birthing people from having to navigate the confusion and disappointment we experienced. We do that by talking about what we call the 'unmentionables' of postpartum– the things you may expect to encounter in the days, weeks, months and even years after childbirth (the Fourth Trimester is now being recognised by many midwives, doulas and OB-GYNs as lasting a full year following birth).
Of course, just as everyone's pregnancy and birth experience differs, your postpartum recovery is completely unique to you. And while we have brought together information and guidance provided to us by vetted professionals in our network, we are not healthcare professionals. If you have any cause for concern during your postpartum recovery, please reach-out to your doctor, pelvic floor therapist, lactation consultant, therapist etc. as needed.
Think of this guide as a window into what Nyssa's founders wish we had known about postpartum recovery before we embarked on our own journeys. It is not comprehensive; it will continue to grow and evolve as we add more information. Please reach-out with any topics or unmentionables that you'd like to see covered, or if you have a story you would like to share with us and the Nyssa community. We wish you strength and solidarity as you #gofourth into this wild, challenging, and fantastic time of transformation.
Mia, Aubrey, Eden & Ellen x
TO GET THIS SIX-PART SERIES DELIVERED TO YOUR INBOX
MORE POSTPARTUM RESOURCES
---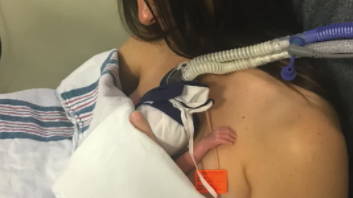 LOUDSPEAKER LETTER: MY UNPLANNED C-SECTION
To my younger self,
You wanted a vaginal birth, grounded in meditative breathing, love, and trust, without any medical intervention or medication—you desperately wanted the pain, all of the pain, the piercing explosive experience that your body was made for, afraid of, but willing to undergo. You expected to hold your baby, wet and bloody in your hot, sweaty arms...